My own husband, a smart, competent, engineer found himself bathing our eldest with very little confidence and a whole lot of fear.
For many first-time parents, the thought of bathing their brand-new baby for the first time can be overwhelming.
This tiny bitty baby seems super fragile, and maybe even complicated.
Where do you start? How do you get your baby clean? What about the umbilical cord stump?
Before we begin, it's important to remember that bath time isn't only about the mechanics of getting your baby clean. It's a perfect time to introduce routines and rituals for your family. Bathing can also be a time for bonding.
There are several different bathing techniques. Every family will find their own favorite style of bathing their baby, and you'll learn quickly what works best for yours.
The main three are:
Sponge Bathing- typically used in the early days/week
Submersion Bathing
Co-bathing
Today we're covering Sponge bathing.
The most important step to remember, with any of the bathing techniques, is to gather all of your supplies for the bath (and immediately after) before you begin. Having everything easily accessible helps keep you focused on your baby and not on how to get those cotton balls that are *just* out of your reach. (Never walk away from your baby while bating, and always keep one hand on them!)
What you'll need for sponge bathing:
a place to bath your baby (such as a clean counter)
baby soap/shampoo
washcloths (at least 2)
cotton balls or cotton rounds
towel
Now that you've got your bathing station all set up, it's time to start the bathing process.
Prepare the bathing water (either in the sink or a basin). With sponge bathing, your baby is not submerged in water.
Prepare your baby for its bath. You may find it helpful to create a warm nest of towels to keep your baby covered and warm until each part is clean.
Always start with the cleanest parts of your baby's body and work your way to the dirtiest. (Think head first, diaper area last.)
Wash your baby's head using a wet washcloth with baby soap and wash your baby's sweet head/hair.
Then use a clean wet washcloth from your supplies to rinse the soap away.
Cover your baby's head back up with a towel to keep them warm.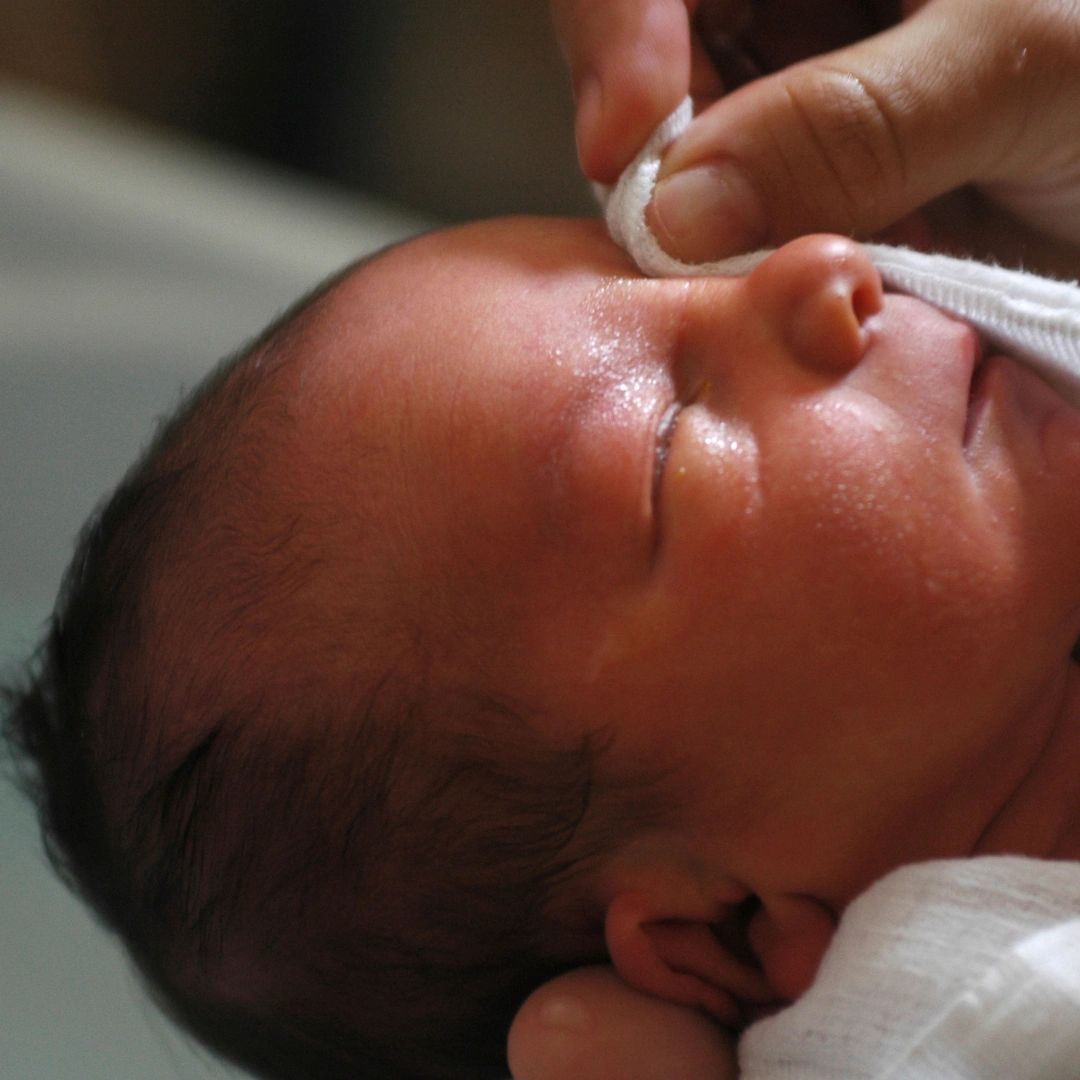 Take one of your cotton balls or rounds, wet with *only* water, and gently clean your baby's eyes, starting from the inside corner, wiping gently towards your baby's temple.
Now clean your baby's arms, legs, and feet with a wet cloth, and rinse using another clean washcloth as before, unwrapping each arm and leg individually for cleaning, placing them back under the towel before moving on to keep your baby warm and relaxed.
If your baby's umbilical cord is still attached, take care that that area remains dry.
Leaning the baby forward with your hand supporting them, wash your baby's back and bottom. Use a clean cloth to rinse, as before.
Wash your baby's genitals last. Rinse clean with a clean wet washcloth.
Only clean what you can see. There is no need to clean the inside of your baby's ears or to retract an intact penis.
Dry off your baby with a clean, dry towel. You can diaper them, apply a baby lotion (if desired) and dress them.
Congratulations! You have bathed your baby!
At Rocket City Doulas, our Postpartum and Infant Care Doulas can help walk you through the process of bathing your baby for the first time! We offer Newborn Care classes to help prepare you prenatally, as well as offer in-home postpartum and infant care doula support once your baby arrives!